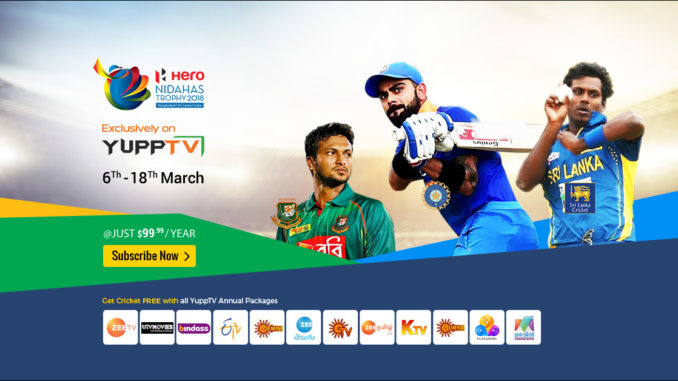 Nidahas trophy T20 tri series 2018
Singer Akai Nidahas trophy was held in 1998 in celebration of the 50th year of independence for Sri Lanka. The trophy was complete between three teams, India, New Zealand and Sri Lanka and also the 1998 Nidahas Trophy was hold from 19th June to 7th July 1998. Each team played against each other and the first two progressed to the finals. Sri Lanka and India compete for the finals where India emerged the winner beating Sri Lanka by 6 runs and Aravinda de Silva was announce the winner with 368 runs.
The 2018 Nidahas trophy will be hold at R. Premadasa stadium in Colombo. It is schedule to begin on 8th March 2018 for the commemoration of 70th year of independence for Sri Lanka. The host will be Sri Lanka as it was announce in November 2017. It is a tri-series between India, Bangladesh and Sri Lanka. They will play against each other twice and the two teams with the highest points will progress to the finals. The finals will be held on 18th March 2018 in R. Premadasa stadium. Nidahas trophy T20 tri series 2018 live will be broadcasted in YuppTV. New Zealand will be missing in this year Nidahas trophy. Bangladesh is coming in as a newbie in the 2018 Nidahas trophy.
Bangladesh will be playing against India and Sri Lanka. In November 2000 it became 10th test playing nation. Bangladesh has recorded the most losses in a row from 2000 to 2002, 21. And 23 in ODIs from 2001 to 2004. It has played 67 T20I winning 21. Its ranked tenth in T20Is, seventh in ODIs and eighth in Tests.
This is the second-time team India is participating in the Nidahas Trophy. It first featured in 1998 Nidahas trophy where they won the finals. Currently, India is leading in Tests and ODIs. It is ranke second in the T20Is by the ICC with Virat Kohli being the captain and Ravi Shastri the head coach.
Sri Lanka the host of the match is marking 70 years of independence. It won the 1996 cricket world cup. It also won the ICC Championship trophy in 2002 having India as their core champion. In 2014 they won the ICC World T20 championship. Currently Sri Lanka is holding tittle for highest team total in tests.
Do you want to watch all the matches live as they happen in R. Premadasa stadium? Nidahas trophy live streaming will be available on YuppTV. YuppTV has all the exclusive rights of broadcasting to you the 2018 Nidahas trophy. Cricket fans in US, UK, CAN, Europe, AUS, NZ, Saudi Arabia, Quatar, Middle East, Singapore, Malaysia and North Africa won't miss this action YuppTVLive TV Streaming.